Transform Your Passion into Purpose at Yoga Veda Institute
Welcome to a sanctuary of learning, where passion meets purpose. At Yoga Veda Institute, we are not just an educational institution; we are a community dedicated to nurturing the healers of tomorrow. Our student-centered, mission-driven certification programs are meticulously designed for aspiring Ayurvedic professionals seeking to make a profound impact in the world.
Discover Your Path - Download the Course Catalog
Three Paths to Your Future in Ayurveda
At Yoga Veda Institute, we understand that each journey to mastery is unique. Whether you're starting fresh, looking to enhance your current skills, or ready to step into a specialized career in Ayurveda, we offer three distinct paths to support your goals. Choose your route and let us guide you to the next level of your professional and personal development.
Stackable Micro Certificates
Expand Your Expertise For the lifelong learner, dive into our series of Micro Certificates. These concise, focused courses are designed to stack together, allowing you to build a bespoke educational experience that fits your interests and schedule. It's learning made flexible, with the added benefit of an all-access option through our Program Membership.
Career Path Specializations
Forge Your Path
Immerse yourself in a 12-month specialization journey that paves a clear path to your career in Ayurveda. Our specialization programs are meticulously crafted to provide you with deep expertise in a specific area of practice, ensuring that you emerge as a qualified professional ready to make an impact.
Flagship Program: Advanced Diploma in Ayurveda
Achieve Excellence
Our comprehensive 2-year Advanced Diploma Program stands as the pinnacle of Ayurvedic education, recognized by the Ayurvedic Accreditation Commission (AAC). This program is for those who aspire to not just practice, but to lead and innovate in the field of Ayurveda. Transform your passion into a profession with our flagship course.
Our Mission:
At Yoga Veda Institute, we are dedicated to providing superior education in Ayurvedic Medicine and Yoga Therapy to a worldwide audience. We aim to cultivate Ayurvedic Practitioners who not only exhibit technical proficiency and professional excellence but also embody the personal greatness that comes with deep understanding and practice. Our mission is to guide each student towards becoming an exemplar of exceptional Ayurvedic care.
Our Vision:
Our vision is to revolutionize healthcare by fostering a global community well-versed in an unparalleled system of mind-body medicine. We are committed to reshaping how health and wellness are understood and practiced by imparting the profound wisdom of Ayurveda and its integrative approach to wellbeing.
Our Culture:
The culture at Yoga Veda Institute is a direct reflection of the Ayurvedic Model of Care. It permeates through our teaching philosophies, methodologies, and the professional conduct we instill in our students. We are devoted to shaping practitioners who are enlightened and self-actualized, encouraging meaningful dialogue and fostering relationships anchored in honesty and trust. Our educational model is not just about transferring knowledge—it's about igniting a lifelong passion for Ayurveda in our students, influencing their journey during their time with us and far beyond.
Karta Purkh Singh Khalsa, A.D.
Khalsa is President Emeritus of the American Herbalists Guild, Director Emeritus of the National Ayurvedic Medical Association and your mentor in Ayurvedic Herbalism for Self Healing.
Terra Raffael
Terra Rafael is a positive and inspirational holistic women's health practitioner, writer, and instructor on women's health, focused on helping women find balance and your mentor in Self Healing for Women's Health.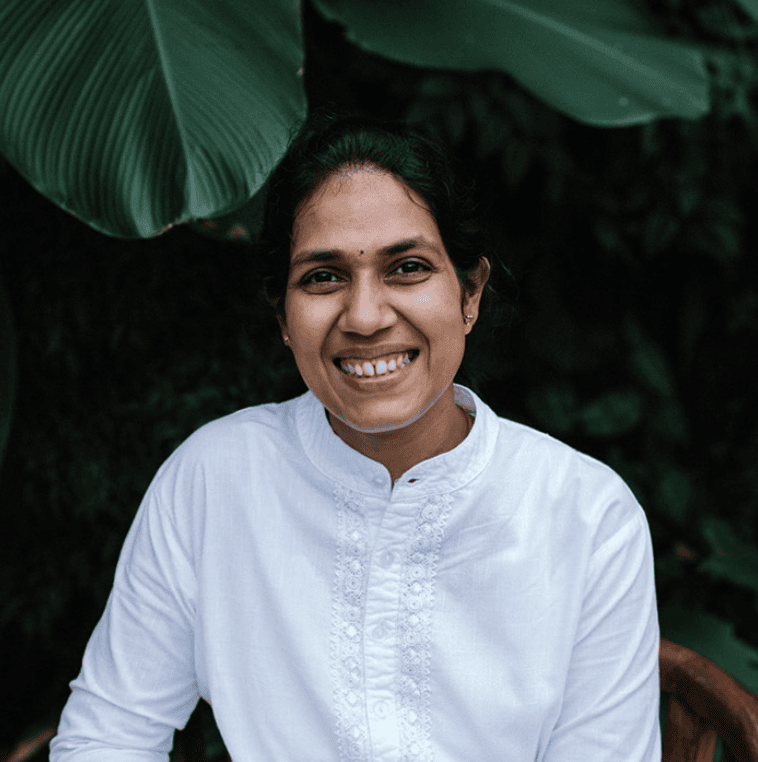 Dr. Resmi BAMS
Dr. Resmi practices Ayurvedic Gynecology & Pregnancy Care and has published research papers in renowned journals. She specializes in Yoga & Naturopathy and is your mentor in Panchakarma & Ayurvedic Detoxification.
Dr. Poilan BAMS
Hailing from a 180 yrs old Ayurvedic family and having an experience of 34 yrs in Ayurveda. He currently is the owner and director of a well known nursing home, hospital and teaching facility in Kerala, India. Doctor Poilan is your mentor in Ayurvedic Sciences.
Kate O'Donnell
Kate O'Donnell is the author of three Ayurvedic Cookbooks, including The Everyday Ayurveda Guide to Self-Care, The Everyday Ayurveda Cookbook and is your mentor in Ayurvedic Nutrition for Healing.
Marek Sawicki
Marek Sawicki is a professional instructor and a highly trained and experienced clinician. His comprehensive education includes being a graduate of The Ayurvedic Institute of Albuquerque, N.M. under the guidance of Dr. Vasant Lad. Marek is your mentor in Ayurvedic in clinical assessment.
Kaya Mindlin
Kaya is an IAYT certified Yoga Therapist, Ayurvedic Practitioner and Teachers' Teacher. She's logged over 10,000 hours credentialed study and wor k in Vedic therapies – Restorative Yoga Therapy, Clinical Ayurveda. Kaya is your mentor in Ayurvedic Nutrition.
Dr. Scott Roos ED.D
Teacher Scott studied upper division Sanskrit at UC Berkeley and Ayurveda at the Wellpark College of Natural Therapies in New Zealand and the Ayurvedic Institute under Dr. Vasant Ladd. Teacher Scott is your mentor in Sanskrit and Mantra for Ayurvedic Practitioners.
Christine Devlin Eck
Christine is the Director Sacred Window Center founded by the late Ysha Oaks. She has a background as an Ayurvedic Practitioner, Educator, Group Facilitator and Birth and Postpartum Doula and is your mentor in Ayurvedic Pregnancy, Birth and the Sacred Window.
Empowering Your Journey in Ayurveda
Our Vision for Inclusive Education
Yoga Veda Institute is devoted to making the ancient wisdom of Ayurveda accessible to all. We believe that a transformative educational experience shouldn't be a privilege but a right for anyone drawn to holistic health. Our programs are crafted to provide affordability, flexibility, and empowerment, allowing you to embrace a life-changing educational journey tailored to your individual pace.
Redefining Affordability in Education
We have taken strides to redefine what affordable education means in the realm of Ayurveda. By offering one of the most competitively priced programs in the field, we ensure that high-quality education doesn't come with a hefty price tag. We are proud to introduce a considerate monthly payment plan that mitigates financial stress, offering a viable path to those seeking profound Ayurvedic knowledge without the burden of overwhelming costs.
Your Classroom Without Borders
In response to the unpredictable nature of life's obligations, we've developed a location-independent curriculum. This freedom-centric approach allows you to pursue your studies from anywhere across the globe, integrating your education with a busy lifestyle through our pioneering preceptorship program.
Interactive Learning Experience
We believe that learning should be a live, vibrant process. Our live class format stands apart from the passive experience of pre-recorded lectures, encouraging active participation and real-time engagement. This method ensures that you benefit from direct interaction, allowing for an educational experience that is both effective and personal.
Learning at Your Pace
Understanding the challenges of a fixed schedule, we've embraced a self-directed yet structured learning model. This moderate self-paced system provides you the autonomy to select the number of live classes you attend each trimester, thus harmonizing your educational goals with your life's rhythm and responsibilities.
Open Enrollment: Education for Everyone
At Yoga Veda Institute, we are champions of inclusivity. Our enrollment policy embodies this, inviting anyone with a yearning to learn and grow in the field of Ayurveda to join us. We are committed to building a diverse community where passion for holistic health is the only prerequisite.
Begin Your Transformative Path
We invite you to join this pioneering approach to Ayurvedic education at Yoga Veda Institute. Step into a journey where your growth, passion, and well-being are at the forefront, shaping a future where education empowers and life flourishes—on your own terms.
AAC Recognized Program with clear path to Board Certification
A leader in Ayurvedic Distance Education
Live classes taught by expert world-renowned faculty
Ayurvedic education done your way with our flexible track program
The nations most affordable recognized Ayurvedic curriculum
Credentials of Excellence: Accreditation, Recognition, and Licensure
Licensed Proprietary Program for Ayurvedic Education
Yoga Veda Institute stands as an accredited proprietary institution dedicated to the advanced study of Ayurveda. Fully licensed under the Department of Labor and Economic Opportunity (LEO) in Michigan, we take pride in offering private ownership's focused attention and specialized curriculum. Our establishment provides two meticulously structured Ayurvedic programs, each crafted to deliver comprehensive understanding and practical proficiency in the field of Ayurvedic healthcare.
Proprietary School, Compliance and Transparency
Yoga Veda Institute is recognized as a proprietary educational institution, privately owned and distinct from the public school system. Our proprietary status allows us the flexibility to design specialized programs that provide targeted, practical training to meet our students' unique needs. We are committed to maintaining the highest standards of compliance and transparency. Our license to operate as a proprietary school, granted by the Michigan Department of Labor and Economic Opportunity, affirms our dedication to educational integrity and excellence. We ensure that any modifications to our programs, locations, or institutional name are duly reported and sanctioned, upholding the quality and consistency of the education we offer.
Programs Offered:
Ayurvedic Health Counselor Program: Our comprehensive curriculum is designed to equip you with the knowledge and skills necessary to guide individuals towards balanced health as a skilled Ayurvedic Health Counselor.

Ayurvedic Practitioner Program: This advanced program delves into the intricate principles and practices of Ayurveda, preparing you for a deeper level of practice as an Ayurvedic Practitioner.
License Details: Michigan Department of Labor and Economic Opportunity Proprietary School License ID: 86050001
The Ayurvedic Accreditation Commission (AAC)
The Ayurvedic Accreditation Commission (AAC) is a specialized accrediting body dedicated to maintaining and enhancing the quality of education in the field of Ayurvedic medicine within the United States. By providing accreditation to Ayurvedic medical programs that voluntarily undergo evaluation and meet the AAC's rigorous standards, the commission plays a pivotal role in ensuring the excellence and integrity of Ayurvedic medical education. The AAC's comprehensive standards evaluate several critical areas of educational provision, including the qualifications of faculty, the efficacy of student services, the availability and management of information resources, the stability of financial practices, and the effectiveness of administration, all of which are vital for the delivery of superior educational programs in Ayurvedic medicine.
Ayurvedic Accreditation Commission (AAC)
Yoga Veda Institute is honored to be recognized as a candidate for accreditation, a testament to our adherence to the preliminary criteria set by the Commission and our commitment to align with their rigorous standards and policies. This candidacy status is more than a milestone—it's an assurance that we are actively progressing toward full accreditation.
In the journey ahead, which may span up to three years, we are devoted to continuous improvement and refinement of our curriculum and institutional practices. Our aim is not only to meet but to exceed the quality standards established for accreditation. This period of candidacy is one of growth and dedication, reflecting our pledge to deliver an educational experience of the highest caliber.
During this dynamic phase, we will engage in an in-depth process to ensure that every aspect of our offerings meets the Commission's stringent requirements. Our pursuit of accreditation is driven by our mission to provide an exceptional educational foundation for our students.
We look forward to sharing updates on our progress. Upon achieving full accreditation, we will proudly update this page to reflect our standing, providing transparency and reassurance to current and prospective students that our programs meet the distinguished standards of the Ayurvedic Accreditation Commission. Only fully compliant and accredited programs will be showcased, maintaining the trust and high regard we hold within the Ayurvedic educational community.
Ayurvedic Health Counselor (AHC)
Under the purview of the Ayurvedic Accreditation Commission, the designation of Ayurvedic Health Counselor is reserved for professionals who have been extensively trained in the preventive and promotive aspects of health care, emphasizing dietary and lifestyle guidance.
Educational Prerequisites: Applicants to the Ayurvedic Health Counselor program must have completed at least 4 credits of anatomy and physiology at the college level or possess an equivalent educational background.
Training and Clinical Experience: To qualify for this category, candidates are required to complete a minimum of 600 instructional hours. Additionally, they must engage in a minimum of 50 supervised consultations with clients to gain practical, hands-on experience in the field.
Ayurvedic Health Counselor (AHC)
Our institute is proudly in the candidacy phase of accreditation, having fulfilled the essential prerequisites and demonstrated considerable adherence to the established standards and policies of the Commission at the Ayurvedic Health Counselor level. This status reflects our commitment to academic excellence and marks a significant milestone on our journey to securing full accreditation.
Ayurvedic Health Counselor (AHC) Educational Competency Guidelines
Ayurvedic Practitioner (AP)
The Ayurvedic Practitioner level as recognized by the Accrediting Commission denotes individuals who have attained comprehensive clinical training in understanding disease pathology from an Ayurvedic perspective. These practitioners are adept in fostering health and preventing disease by emphasizing dietary and lifestyle modifications.
Prerequisites for Entry: Applicants must have completed at least 6 credits of college-level anatomy and physiology, or an equivalent course of study, prior to enrollment.
Program Requirements: To qualify as an Ayurvedic Practitioner, candidates are required to complete a minimum of 1,500 hours of rigorous training. This may encompass prior educational hours achieved in the Ayurvedic Health Counselor program. Additionally, a minimum of 150 supervised clinical interactions are mandated, potentially including client encounters accrued during the Ayurvedic Health Counselor training.
Ayurvedic Practitioner (AP)
Yoga Veda Institute is presently in the candidacy phase for accreditation, having fulfilled the required eligibility prerequisites and exhibited considerable adherence to the accrediting Commission's standards and policies for the Ayurvedic Practitioner level. This status underscores the institution's ongoing journey towards achieving full accreditation.
Ayurvedic Practitioner (AP) Educational Competency Guidelines
The National Ayurvedic Medical Association Certification Board (NAMACB) 
The National Ayurvedic Medical Association Certification Board is a certifying body for Ayurvedic professionals in the United States. Earning a certification from NAMACB signifies that an individual has proven their foundational proficiency in their practice area by successfully finishing a course approved by NAMA and excelling in a comprehensive certification examination. It also indicates a commitment to professional development through continuous education and related endeavors. Impressively, all Yoga Veda Institute graduates who have chosen to take the NAMACB board examination have achieved a passing score.
NAMACB Board Certification
Achieving certification from the National Ayurvedic Medical Association Certification Board (NAMACB) marks a considerable milestone for Ayurvedic professionals in the United States, where the practice is still gaining recognition as an emerging healthcare profession. The NAMACB certification stems from educational competencies and standards crafted by the National Ayurvedic Medical Association, making it the pioneering credentialing system for Ayurvedic medicine within the country. This certification serves as a vital benchmark for clients, healthcare institutions, governmental bodies, and other stakeholders to verify the qualifications and expertise of Ayurvedic practitioners.
The National Ayurvedic Medical Association (NAMA) 
The National Ayurvedic Medical Association (NAMA) serves as the leading voice for the Ayurvedic community in the United States. NAMA is dedicated to safeguarding, nurturing, and advocating for the ancient, awareness-based principles, wisdom, science, and practice of Ayurveda, aiming to enrich the lives of all individuals.
The Association's mission is to steer the Ayurvedic profession with integrity and foresight and to disseminate a vision of Ayurveda that underscores its comprehensive approach to health and wellbeing. Our commitment is to realize this mission through the development and execution of a robust strategic plan that will support the flourishing and efficacy of Ayurveda as a professional practice.
NAMA Membership
NAMA is rapidly becoming the preeminent hub for Ayurvedic practitioners, educators, and enthusiasts both within the U.S. and internationally. Offering membership categories for Professionals, Organizations, General enthusiasts, and Students, NAMA welcomes anyone involved or interested in the field of Ayurveda – whether you are a seasoned practitioner, a business contributing to Ayurvedic practices, an ally of the Ayurvedic philosophy, or a student in the discipline. As a member, you will gain access to a suite of professional resources and benefits, contributing to the collective effort to elevate and propagate Ayurveda as a highly regarded form of healing. Join NAMA today and be part of this vibrant and growing community.
"You will learn so much more than just Ayurveda. I truly wish that every person could experience this deep expression of self-discovery."
Curated Educational Experiences
Our dedicated team of Ayurvedic professionals carefully curates the most conscious & meaningful educational experience for our students through conscious connection and authenticity.
Conscious Global Community Network
At YVI we are more than a school.  We are a global network of likeminded Ayurvedic enthusiasts  from around the globe who come together to learn, grow, and share in our passion for Ayurvedic healing.
Expert Instructors in our Live Virtual Classroom
Decades of passion and experience are hallmarks of each member of our carefully selected faculty.  We connect experts to students in our live & interactive virtual classroom for a personal educational experience.
Lifetime Career Support & Guidance
A career in Ayurvedic Medicine is as unique as you are.  Just like everything in Ayurveda - your unique Dharma (calling) is no different.  All students receive lifetime career support & guidance to help you pave a unique path.
Study from Anywhere at Anytime
Take as many or as few classes as you like each trimester.  Watch live, or savor the recorded lessons later.  At Yoga Veda Institute you can study at your own pace, in your own time, no matter where your life takes you.  We are here.
Affordable Tuition & Flexible Payment Options
Accessible Ayurvedic Education is our #1 purpose.  Where other schools place roadblocks - we build bridges.  We offer the most affordable tuition in the nation, with additional flexible payment options and a robust Scholarship Initiative.  
"The curriculum was the main reason that I chose this program, and I have not been disappointed."
Scholarships
Paving Paths to Universal Wellness
Ayurveda is universal, opportunity is not.
Our institute is dedicated to fostering a world enriched by the holistic wisdom of Ayurveda. We are steadfast in our commitment to curating a distinguished Ayurvedic educational experience that is attainable to our worldwide community. To those who know our mission, it is clear—we hold the conviction that Ayurveda must be an opportunity open to all.
"I feel respecting the teachings is essential. It's important for me to honor the lineage. I love your program."
Welcome to Yoga Veda Institute 
"I learned more in Yoga Veda's Foundation Courses than I had in a whole year at another school."
Embark on a Transformative Journey
Dive into the profound wisdom of Ayurveda with our all-encompassing program that artfully interweaves ancient knowledge with contemporary applicability. Take the first step - request a brochure and start your transformative journey with us today. Now welcoming new students with open arms and open hearts.