international AYURVEDIC academy
By Yoga Veda Institute
Why study with Yoga Veda's International Academy?
At the Yoga Veda International Academy, we offer an accessible international certification program that allows you to expand your knowledge of Ayurveda. Engage in weekly live classes and gain expertise through our renowned International Certification Programs. Our academy brings you the very best of the Yoga Veda Institute's world-class curriculum and faculty, all at a pace that suits your needs and preferences.
Unlike some schools that choose not to pursue accreditation, the Yoga Veda Institute is licensed and recognized as one of the distinguished few schools in the USA actively pursuing accreditation. While licensing and accreditation are not mandatory in the USA, we remain committed to offering our students the assurance of attending a school that upholds the highest standards.
It's important to note that while our International Certifications are not transferable to a NAMAC board certification, it's crucial to understand that such certification is not mandatory for practice, both within the USA and in other countries.
International students who wish to join our academy are eligible to register with esteemed organizations such as the Ayurvedic Association of Professionals of North America (AAPNA) and the American Association of Drugless Practitioners. By doing so, they can establish their credibility and professional standing in the field of Ayurveda.
We understand that each individual has unique circumstances and commitments. That's why we believe in empowering you to pursue quality Ayurvedic education on your own terms. As the only school in the nation dedicated to making quality education accessible to our global community, the Yoga Veda International Academy ensures that individuals from around the world can access comprehensive International Certification Programs.
By joining our academy, you can unlock the doors to advanced Ayurvedic knowledge and skill development, embracing the countless opportunities that come with a recognized international certification. Prepare yourself for a fulfilling journey in Ayurveda and embark on a path of personal and professional growth with us.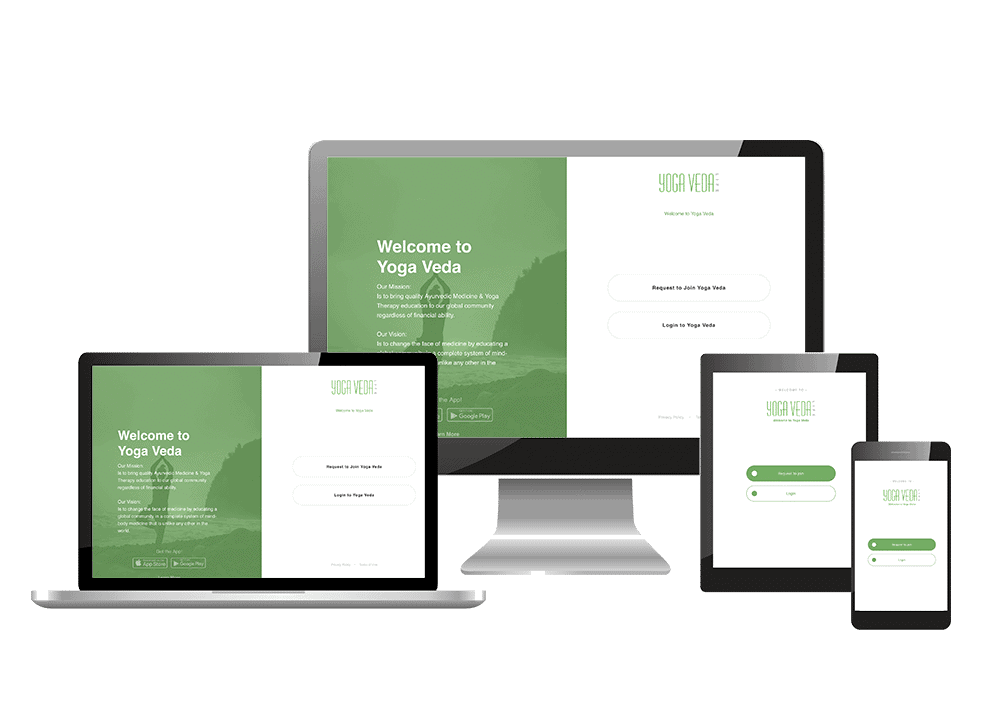 Gain immediate access to your first lessons as soon as you enroll and embark on your Ayurvedic journey without delay. Our foundational courses are thoughtfully crafted to introduce you to the early Ayurvedic scripture and language, effectively preparing you for the live classes at the beginning of the upcoming trimester. Take the first step towards your Ayurvedic education and begin learning right away.
Embrace a dynamic learning experience in our virtual Zoom room where you can connect, collaborate, and receive personalized guidance. Our committed Community Concierge and lively student community are dedicated to providing unparalleled support, ensuring you not only succeed but thrive throughout your Ayurvedic journey. Together, we create a nurturing environment that fosters growth and exploration, making your learning experience truly enriching and rewarding.
Within our exclusive members-only area, you'll find a treasure trove of learning opportunities available 24/7. Delve into live classes, session recordings, bonus trainings, guided meditations, and a wide array of recommended resources, carefully curated to enrich your Ayurvedic journey. This comprehensive platform ensures you have the flexibility to learn at your own pace while immersing yourself fully in the wisdom of Ayurveda. Your continuous growth and exploration are our top priorities, and we're thrilled to offer you this extensive range of valuable content.
Discover the magic of connecting with like-minded souls who walk the path alongside you. Our live classroom is the heart of this experience, offering a space where you can share, learn from others, and reach out for support. This nurturing environment fosters a sense of community, empowering you to forge meaningful connections and embark on your Ayurvedic journey with a supportive network by your side. Together, we create an atmosphere where growth, understanding, and encouragement flourish, making your learning experience truly transformative.
At our institution, our students' success and well-being are our top priorities. That's why we offer personalized support through our dedicated team of student advisers and program directors. Whenever you require assistance or guidance, it's as simple as scheduling a 1:1 call via your student dashboard. We are committed to providing you with the ongoing support you need, ensuring that you have a fulfilling and enriching experience throughout your Ayurvedic journey. Our experts are here to address your questions, offer encouragement, and help you thrive in your studies.
At our institute, we believe that learning Ayurveda is just the first step towards a fulfilling career. That's why we provide continuous career support and guidance throughout your program and beyond. We understand that the world needs the unique gift that only you possess, and we are dedicated to helping you turn that gift into a reality. Our commitment to your success extends far beyond your time with us, and we are here to support you in reaching new heights in your Ayurvedic journey. Let us help you make your dreams come true and create a lasting impact on the world with your special talents and knowledge.